Posted by Rebecca

on November 1st, 2010


Eddie Cibrian had this picture of him proposing to LeAnn Rimes taken and the two of them had a BALL with people thinking they may be engaged.  Wow, Famewhores, much?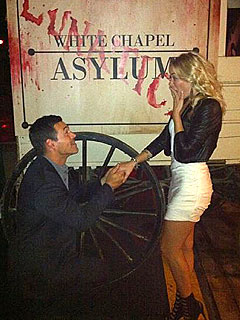 Bound in holy sham?
"In a picture Tweeted by live-in boyfriend Eddie Cibrian – then re-Tweeted by Rimes – the actor kneels in front of a sign that reads White Chapel Lunatic Asylum. Add to that, the fact that Cibrian is holding Rimes's right hand in his as she covers her mouth in excited shock."
Thanks for that description, People Magazine.  Turns out, it's all for publicity. WHAT? NOT THESE TWO. NEVER!
"They are not engaged," says a source close to Rimes. "It was just part of the Halloween fun."
Gag me.
Category:
Celebrity Stupidity
,
Eddie Cibrian
,
LeAnn Rimes
FOOD & PREGNANCY
- 7 Kinds Of Food Pregnant Women Should Avoid

- The Scoop On Soy - A Healthy Source Of Protein

- 4 Breathing Techniques Relieving Pain For Pregnant Women During Labor

- Foods You Should Not Eat With Eggs

- Kinds Of Edible Livers That You Should Eat

- Foods That You Should Avoid Eating At Night

- Organic Smoothies for a Healthy Pregnancy : Pumpkin Spice, Sweet Potato Pie, Coconut Cream Smoothie

- 9 Foods That Provide Probiotic Beneficial Bacteria

- Facts About Food Containing Iron For Pregnant Women
Top search
- 16 Celebrity Boob Jobs, Before and After

- 16 Celebrities Smoking Cigarettes

- 16 Celebrities' Nose Jobs

- 14 Hairy Female Celebrities

- 7 Stars Speak on Losing Their Virginity
-
5 Celebrities Who've Denied Having Anorexia
-
5 Celebrities With Weird Scars
-
6 Photos of Britney Spears Wearing No Underwear!
-
17 Celebrity Acne Photos
-
5 Celebrities Who Were Upset After Their Naked Photos Were Leaked